The weddings in India is usually a lavish and an extravagant affair. Indian weddings are known for its great pomp and show , filled with ritual and celebration, that continue for several days. It's a festival by itself and food forms and integral part of every festival in India. And, when the occasion comprises of a wedding, you can be sure that the menu will be grand and the food simply delicious. Any Indian wedding is considered incomplete without delicious food. The arrangement of the wedding day food is done by the parents of the bride. Though the menu is decided according to their wish, at times the approval of the groom's family is also taken. The groom's family is given prime importance in any Indian wedding alliance and therefore, the preparation of the food is prepared in the best possible manner, in order to please them.

Traditionally, the food for the wedding was cooked by skilled cooks. . All the best dishes of that particular religion, sect or tribe are cooked to make the event memorable and lavish. The type of food served in an Indian wedding will depend upon the state the couple belongs to, as in Punjab, Bengal, Assam, Rajasthan, and so on. However, the basics remain the same, more or less.

The Indian wedding feast usually commences with appetizers, which are served before the main meal is served. The appetizers are usually both vegetarian and non vegetarian to cater to all guest. It can comprise of traditional starter meals of the specific region the couple belongs to. This is followed by the main course meal. The main course meal usually contains four to five vegetable dishes, different types of daals, pulao and breads. It also comprises of both vegetarian and non vegetarian dishes. The meal is the heaviest and grandest of all and showcases the best delicacies of any cuisine. After the primary meal is over, the guests are treated with desserts. Desserts are sweet items, which are served to ease the spicy and tingling taste of the meal. The seasonal sweets and ice creams are always given preference. Subsequently, the Indian wedding feast comes to an end with Paan. This is prepared by stuffing a betel leaf with betel nuts, spices and sugar, according to taste.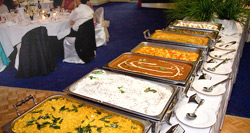 Indian weddings are becoming very popular today with the people from the western world and there are many who are getting married to Indians too. There is a famous quote that says.."If you want to be happy through out your life, marry an Indian Girl." So what are you waiting for? If you are planning to get married in an India traditional style, don't forget the Great Indian Wedding Feast.
visit www.holidayindiaonline.com